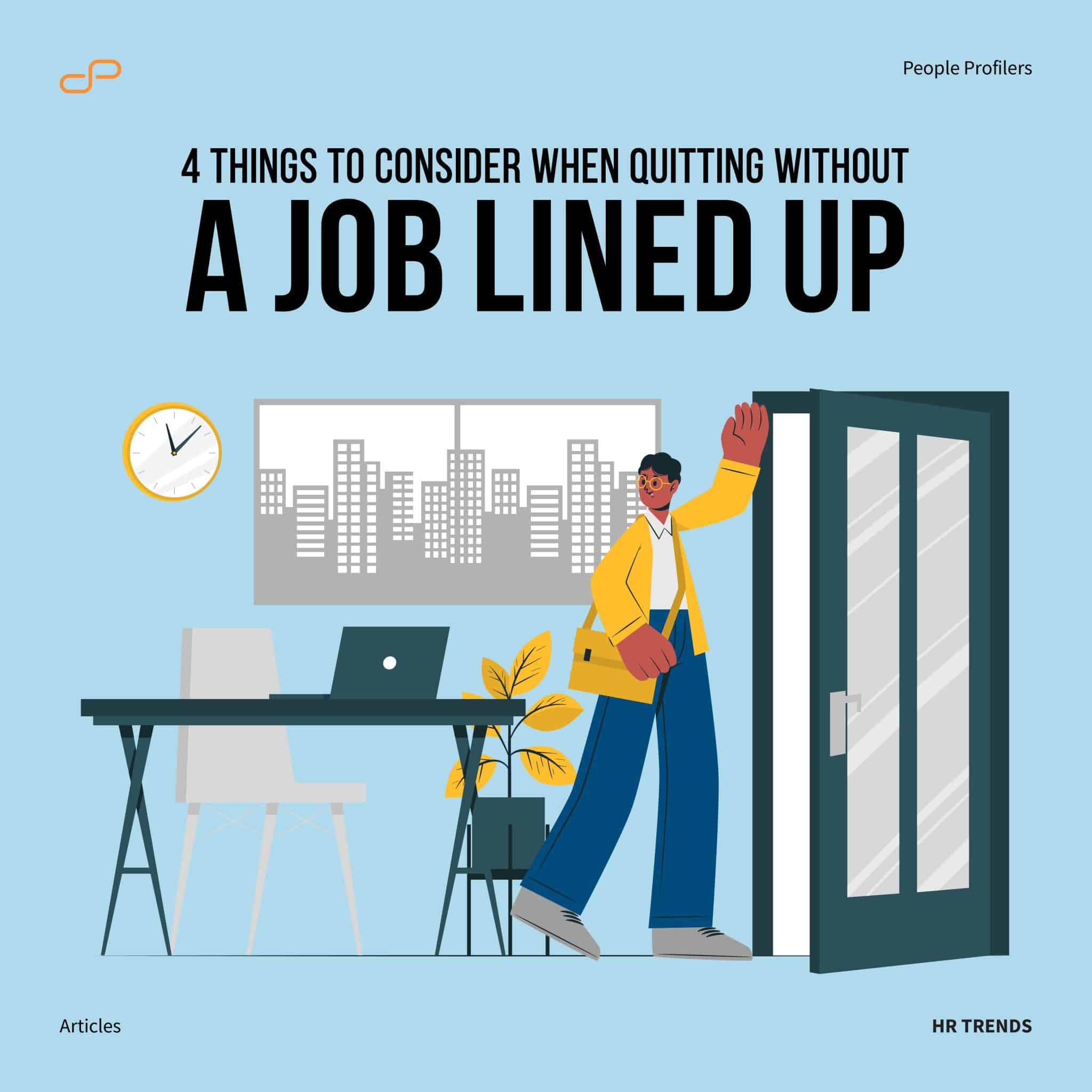 4 Things To Consider When Quitting Without A Job Lined Up
Dissatisfaction with one's job is the number one reason people quit their jobs without another one lined up. Reasons for leaving without a plan could vary. But regardless of why you choose to quit your job without having another one lined up, here are four considerations to help you ascertain if this is the right career move for you to make at this point:
1. Do you have enough savings?
When quitting your job, the top consideration is ensuring you have enough savings to last until you get a new job. Without a steady cash flow, living expenses like groceries, rent, medical appointments and transportation can really add up. If you're thinking of switching careers and exploring other work industries, consider if you have enough savings to pay for the required certification courses and how taking a potential pay cut in your next job will affect the quality of life for you and your family. Do these calculations and work out a deadline for when you will get a new job. The cost of living in Singapore adds up fast, so it's only practical to give yourself a time limit for your career break, whether you spend it resting from the past years of toil or experimenting with new opportunities.
2. What are your career options moving forward?
It can be tempting to quit your job immediately, especially if you've been feeling unfulfilled or frustrated in the office for some time. However, consider what you will do between jobs and whether you have clear career options moving forward. For example, overly short job tenures can be a red flag for prospective employers, so quitting before you've finished one year in a job can lead to questions that might be difficult for you to answer. If you're leaving to further your education, consider your chances of landing a similar or higher-paying job in the future.
On the other hand, if you're switching to a different industry, make sure you've talked to experts in the industry of your choice and find out what your career path in this new industry will look like. Consider if you have enough knowledge to start a new career path with the right foot forward or if biding your time and learning more about your prospective industry would be wiser. You don't want to quit your job only to realise that you've just spent precious time (and resources) trying out something that's not for you.
3. Can you maintain your professional relationships if you quit now?
Another critical consideration when quitting your job — even when you've got another one lined up is — maintaining cordial relationships with your colleagues and bosses. Rage quitting usually burns bridges, leaving you with no way back. Whereas a well-timed, communicated end to your current job allows you to keep in touch with working professionals in the company who could be helpful to you later on in your career. Moreover, in a small world like Singapore, you could very well find yourself working with people from your current company again in the future, so make sure you quit your job on a good note, even if you're leaving out of dissatisfaction.
4. How will you explain this career break?
Finally, ensure you've considered what you will be doing during this career break. An employment gap on your resume might be questioned at future job interviews, and when they do, you'll want to be able to give a suitable reply. So plan out your career break in detail to make it easier for your future self to respond honestly to queries about this later on. Set deadlines for rest and recreation so your sabbatical doesn't turn into a year-long retreat, and set goals for your new career pursuits so you don't end up experimenting with a new industry with nothing to show for it.
Quitting a job without another one lined up can be terrifying, so plan carefully before undertaking the plunge. At the same time, don't hesitate until you're too afraid to quit. If you have decided to take the challenge, then go for it and tackle it straight on!
𝗙𝗼𝗿 𝗺𝗼𝗿𝗲 𝗰𝗮𝗿𝗲𝗲𝗿 𝗴𝗿𝗼𝘄𝘁𝗵 𝗼𝗽𝗽𝗼𝗿𝘁𝘂𝗻𝗶𝘁𝗶𝗲𝘀, 𝗰𝗵𝗲𝗰𝗸 𝗼𝘂𝘁 𝗼𝘂𝗿 𝗷𝗼𝗯 𝗼𝗽𝗽𝗼𝗿𝘁𝘂𝗻𝗶𝘁𝗶𝗲𝘀 𝗽𝗼𝗿𝘁𝗮𝗹 𝗼𝗿 𝗰𝗼𝗻𝘁𝗮𝗰𝘁 𝗼𝘂𝗿 𝗲𝘅𝗽𝗲𝗿𝗶𝗲𝗻𝗰𝗲𝗱 𝗰𝗼𝗻𝘀𝘂𝗹𝘁𝗮𝗻𝘁𝘀 𝘁𝗼 𝗰𝗼𝗻𝗻𝗲𝗰𝘁 𝘄𝗶𝘁𝗵 𝗲𝗺𝗽𝗹𝗼𝘆𝗲𝗿𝘀 𝘄𝗵𝗼 𝘀𝗵𝗮𝗿𝗲 𝘆𝗼𝘂𝗿 𝘄𝗼𝗿𝗸 𝘃𝗮𝗹𝘂𝗲𝘀!